Five healthcare finance leaders recently gathered to discuss how they leverage technology to address patient engagement, satisfaction and retention. Read highlights from our Bank of America - Becker's Hospital Review roundtable.
---
WHY INNOVATION IS A CRITICAL PRIORITY
With reimbursement tied to patient satisfaction, and competition among providers on the rise, investing in technology that improves patient retention is a critical priority. Roundtable participants attributed sluggish innovation to institutional barriers and limited resources, rather than a lack of will.
Underscoring their opinion is a Becker's 2019 Advisory Board survey, which reveals innovation and technology ranked as the top priority among healthcare finance professionals—up from eighth in 2018. In addition, hospital executives responding to the 2019 Bank of America - Becker's Survey reported technology budget increases over the last two years. Kerri Schroeder at Bank of America noted, "We're starting to see a real shift toward prioritizing some of those initiatives because they're becoming so important to maintaining relationships with patients."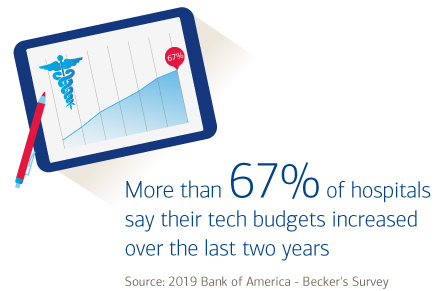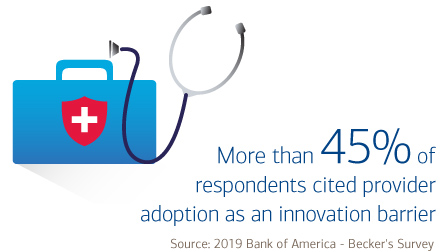 WHY PEOPLE, PROCESSES AND CULTURE MATTER
According to Peter M. Fleischut, who heads innovation at NewYork-Presbyterian Hospital, leaders must build a cultural framework that supports new solutions before incorporating new technology into workflows. "You can't just implement technology for technology's sake," said Fleischut.
Echoing this sentiment is Carilion Clinic's Stephen Morgan, who has championed technology to improve patient care and physician efficiency since 1999. "It's not just about technology. You need people, processes and technology to make innovation work."
Geisinger Health System's Karen Murphy oversees initiatives designed to improve care cost and delivery across 12 hospital campuses. One of her recent efforts uses an AI-powered digital assistant to capture and synthesize patient-provider conversations, allowing physicians to focus on patient care instead of documentation. "Our goal to distinguish ourselves from competitors is to really focus on service," Murphy said. "Technology isn't strategy, it enables strategy."
3 TIPS FOR OVERCOMING INNOVATION BARRIERS
Engage physicians and communicate change

Provider buy-in is an essential component of hospital innovation. "I think we just have to become way better storytellers," said Neil Gomes, who heads up the design and implementation of digital innovation at Thomas Jefferson University and Jefferson Health. "We have to communicate that the solutions we're working on actually address some of the concerns physicians have about technology taking time away from direct interactions with patients."

Fix broken processes before going digital

Karen Murphy noted that efforts such as eliminating paper should not simply digitize paper-based processes. New digital solutions offer providers the chance to holistically appraise current workflows. Processes should be optimized prior to the launch of a digitalization effort. "If you digitalize a bad process, you might come up with a bad digital innovation," said Murphy.

Innovate with the patient in mind

With patient satisfaction tied to reimbursement, and patients paying more out of pocket, care delivery has become a key target in today's value-based, consumer-centric healthcare industry. Patients want improved care access, added convenience and a more transparent financial experience. Roundtable participants agreed that direct patient engagement should be integrated into planning, rather than relying on second-hand assumptions.
BIG TECH: FRIEND OR FOE?
With their vast expertise in consumer engagement and well-established consumer-centric infrastructures, Amazon, Apple and Google entering into healthcare promises disruption in an industry plagued by rising costs and inefficiency.
Some participants noted the potential competition for patients as Apple and Amazon launch primary care clinics for employees. Others are optimistic about collaborative opportunities and access to new consumer products. Most agree that tech giants have achieved what leading healthcare organizations aspire to do: anticipate their customers' needs.

Kerri Schroeder at Bank of America said she sees big tech offering complimentary benefits for healthcare providers. The cooperative effort between Google, Amazon, Microsoft and others to create healthcare data-sharing standards could help untangle one of healthcare's thorniest technology problems — interoperability. She also acknowledged the potential for disruption: "Positioning your organizations to compete with those disruptive forces is really critical to maintaining patient relationships long-term and maintaining relevancy with folks, particularly those younger, healthy consumers."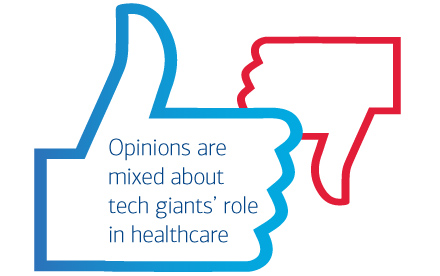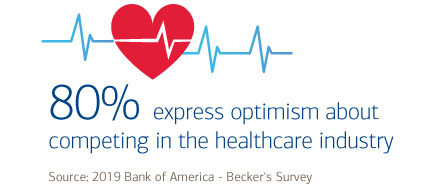 A BRIGHT, VALUE-BASED FUTURE
More than 80% of survey respondents express optimism about their organization's ability to remain competitive in the future. Geisinger's Karen Murphy is also optimistic that a true transition to value-based care will come to fruition. "What gives me the most encouragement is that we seem to be moving seriously toward risk reimbursement." She added, "I think the move to value and accepting risk will accelerate innovation, because we'll have to do it. And I think we will move to a much, much better place."
Karen Murphy, PhD, RN
Executive Vice President and CIO
Geisinger Health System
Danville, PA
Kerri Schroeder
Commercial Credit Executive
Bank of America
Neil Gomes
Chief Digital Officer
Senior Vice President of Technology Innovation and
Consumer Experience
Thomas Jefferson University Hospital
Philadelphia, PA
Stephen Morgan, MD
Senior Vice President
Chief Medical Information Officer
Carilion Clinic
Roanoke, VA
Peter M. Fleischut, MD
Senior Vice President
Chief Transformation Officer
NewYork-Presbyterian Hospital
New York, NY